How To Enter Safe Mode In Windows 11/10 With One Click
How To Enter Safe Mode In Windows 11/10
We previously knew How to Enter Safe Mode in Windows 11 with several different methods and steps, and of course, all of them are very easy for you to implement, even in Windows 7, Windows 8 and Windows 10 though.
Well, apart from the steps mentioned in the previous article, there is an application called Safe Mode Launcher which functions so that we can more easily enter Safe Mode with just one click. So how do you do that? The following We summarize the short steps.
Step 1. First, you can download Safe Mode Launcher from the official page on the following site.
Step 2. Next, you can extract the file that you downloaded earlier.
As in the picture above, in the file that we downloaded earlier, there are several files available, which include SafeMode.exe (for the 32-bit version) and SafeMode_x64 (for the 64-bit application).
Step 3. Next, please open the SafeMode application which is available in the folder that you extracted just now, adjust it to the version / architecture of Windows that you are using.
Step 4. Next, you can choose which Safe Mode you will enter, starting from the usual Safe Mode, Safe Mode with Networking, Safe Mode with Command Prompt Only. When you have finished selecting, please click Apply Options.
Step 5. Then you can restart your device then you will enter Safe Mode according to the one you selected before.
Regarding this step, it's actually a much simpler step than the method from Microsoft Configurations / MSConfig, because instead of opening MSConfig and doing the configuration there, we only need to use this application to change the boot settings.
In addition, what is interesting about this application is in the Menu section, there are a number of other features and capabilities that you can see in the following image:
There is a Boot Once in Safe Mode option, there are Recovery Settings, Activating a Hidden Admin Account and so on, including running the Bcdedit command with just one click.
Well, please try guys, maybe this application will be useful for you to use. If there are other applications that you might recommend, don't hesitate to let us know in the comments column below.
How to block Windows 11 upgrade – not everyone wants Windows 11
How to Lock Upgrade to Windows 11 Guide shows you how to lock upgrades to higher versions of Windows.
A good example is blocking the upgrade from Windows 10 to Windows 11, something Microsoft constantly encourages us to do.
Why block Windows Update notifications about the need to upgrade to Windows 11?
There are many reasons to avoid an upgrade.
We still have software that may not work well Windows 11
The hardware we have is not compatible
We want the PC we work with to be 100% stable, without problems
In many cases, users simply do not want to change the operating system
Why is Windows sending us an urge to upgrade?
Microsoft, which develops Windows, has improved the Windows 11 operating system for data collection.
Not mention that Windows 10 does not collect data, but on Windows 11 this is much more efficient and deeper.
Collecting users' personal data, that's the effort, and the gold rush in the digital age, I would add.
Windows XP – very, very little data is collected, especially use and operation
Windows 7 – Relatively little data is collected, especially usage and operation
Windows 10 data collection becomes more efficient, personal data collection is improved
Windows 11 – in this version the data collection is perfect, the amount of personal information collected is very large, on iOS and Android.
Why is personal information collected?
If you ask the companies that develop the operating systems, they will answer you with the phrase «to improve the products, services, and user experience.
THE TRUTH is that the personal information collected is used to profile users for advertising, statistics, and other purposes. There may be many others
How do you stop messages from upgrading from Windows 10 to Windows 11?
There are several methods, but I will present the one that works on Windows 10 Home, but also on Windows 10 Pro.
open register ~ ~ POS = TRUNC from start / regedit or after ordering regedit in CMD
Should Computer \ HKEY_LOCAL_MACHINE \ SOFTWARE \ Policies \ Microsoft \ Windows \
If you do not have the WindowsUpdate key, you will need to create one named WindowsUpdate
Right-click on "Windows" New / Key – Name " WindowsUpdate "
Now right click on the WindowsUpdate / New / DWORD (32bit) value key by name TargetReleaseVersion and value 1
After that, right-click on the key again WindowsUpdate / New / String Value after the name TargetReleaseVersionInfo , double click, and value data change to the current version of Windows
Find out the version with the "winver" command in CMD
We have made this above so that our Windows no longer takes into account other wonders received through the Windows update apart from what is required for the current version of the operating system.
From now on, you will receive updates only for your version of Windows, and you will not be bothered by banners urging you to upgrade to Windows 11 or higher.
Windows 11 guides
Classic Windows 11 context menu
TIW11 is the perfect tool for setting up Windows 11
Install Windows 11 with a local account
Upgrade Windows 11 on ANY PC
Install Windows 11 with a local account
Windows 11: How to change the color of the taskbar?
Changing the color of the taskbar in Windows 11 is not difficult. The system has been designed so that even a novice computer user can personalize any interface element.
Windows 11 is the newest operating system from Microsoft. It has been redesigned so that even a novice user can personalize and set up many elements, including the taskbar. Here's how you can easily change the color of the taskbar if the default one doesn't suit you.
Windows 11: How to change the color of the taskbar?
The first steps go to the START button and the Settings icon (you can also use the Win + I keyboard shortcut ) and enter the Settings panel.
On the left, select Personalization from the list, then click on the Colors field.
We find on the list option Custom
And change the default setting Automatic to Manual.
Now, from the available system color palette, we choose the one that suits us best. Finally, we move the slider to On next to Show Lead Color on START Button and Taskbar.
From now on, the taskbar will be displayed in the color we chose, and it will not be assigned to the theme automatically.
Windows 11 is an extensive, but also the friendly operating system that still hides many secrets, especially from new users. To learn even the basics, read a series of guides. In other publications, we suggest how to move the taskbar, check the WiFi password or disable the proposed applications and files .
images:- Pureinfotech
How to Upgrade Windows 11 Home to Windows 11 Pro
Generally, nowadays many new devices have received Windows 11 Home by default, even though Windows 11 Home itself is actually sufficient to meet the daily needs of ordinary general users, but unfortunately, there are a number of feature limitations in the home version compared to the pro version, for example, it's just the unavailability of the gpedit option and a number of other power tools.
The solution to getting the most complete features, of course, is to update Windows 11 Home to Windows 11 Pro, then what are the steps? is it possible to upgrade directly, and does it cost money? let's try guys.
Upgrading Through the Settings Page
Before entering the steps, you must already have a Windows 11 Pro license key that you bought before, if you don't have it you can buy it first, I don't recommend using crack and other activators.
Step 1. After having a license key you can just go to the Settings > System > Activation page.
Step 2 . In the Activation section, you can click the Change button in the Change product key section.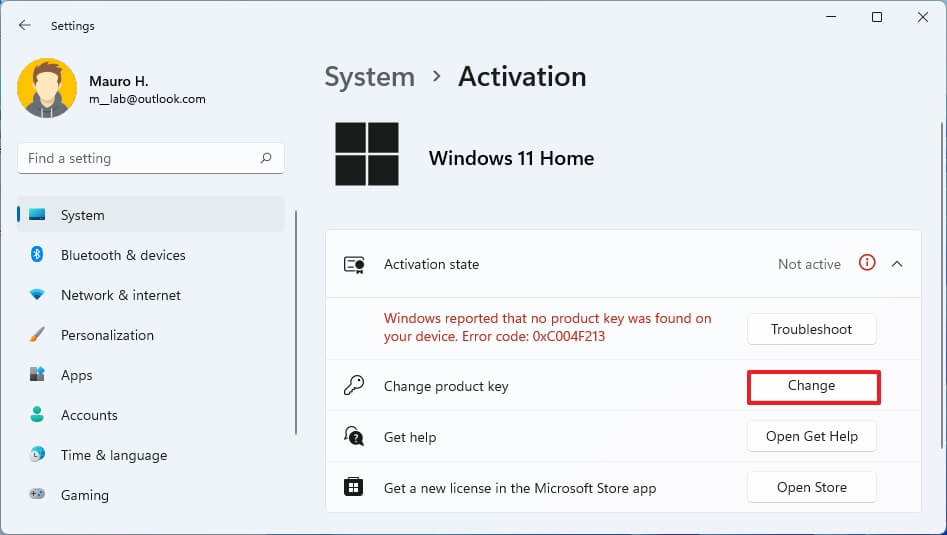 Step 3. After that, please enter your Windows 11 Pro license key, where this license contains 25 serial numbers that you get in the Windows 11 purchase package.
Click Next and then click Start, if the serial number matches, then Windows 11 Home will automatically change to Windows 11 Pro.
Upgrading Through the Microsoft Store Page
If by chance you don't have a Windows 11 Pro serial number, you can also buy it and upgrade directly from the Microsoft Store page on Windows 11.
Step 1. First, go to Settings > System > Activation > Open Store.
Step 2. Next, you will be directed to the Upgrade page in the Microsoft Store, then you just have to buy it as usual by pressing the Buy button.
After you make the purchase process, the upgrade process should start immediately, this process takes about 30 minutes or less depending on the internet connection and the performance of the device you are using.
Well, please try guys, I hope this article is useful. I haven't tried upgrading with the Windows 10 serial number, but of course, it's worth a try too, just wait for the next article guys.
Reference : Pureinfotech