Huawei P40 And P40 Pro: Huawei's Upcoming Flagships Phones
After this peculiar and quotation mark MWC 2020 that we have experienced virtually, the date to know the new Huawei is approaching, and the desire already joins us we have with the rumors and alleged leaks. And with everything we think we know about the Huawei P40 and P40 Pro, we can get an idea of ​​what we will see in the presentation of the information is confirmed.
As we told you here, the initial idea of ​​the brand was to do a face-to-face event as in previous occasions in Paris, but given the crisis with the COVID-19, it will be a streaming event that we will follow from here in detail to tell you everything. The jewel in the crown will be the P40 Pro by all accounts; let's see what it seems to integrate these next high-end.
Huawei's high-end phones have maintained the notch as an option to reduce the upper frame a little more and not take the front camera to a module, as we have seen in other manufacturers. This era of the notch would end to adopt the hole in the screen that we have already seen in the Huawei P40 Lite, which therefore seems consistent to maintain the same design line (premiere, in this case, too).
In this way, the goodbye to the notch would imply a hello to the perforated screens that we have already seen in some Honor and the Huawei Nova 4. What the alleged leaks show is that it would be on one side of the screen, like the P40 Lite, although in the case of the P40 Pro, there appear to be two front cameras.
What seems to change most clearly is the rear. In the Huawei P30 and Huawei P30 Pro, the rear cameras were like a traffic light in a corner, while in the P40 it seems to take the form of what we have seen in the Samsung Galaxy S20 Ultra and other brand phones, being wider than in the P30 and also being on one side.
On the front, we would see a 6.7-inch OLED screen with a resolution of 1,440 x 3,160 pixels (finally) and a density of 518 dpi, as well as a refresh rate of 120 Hz. The curvature at the edges that characterizes the Flagships of the brand for a while and the use of the front would be around 98% according to the leaks.
The design of the buttons is preserved concerning what we saw to the P30 Pro, seeing the posters of the ad in which the edge of the mobile is seen. And the logical thing is that they continue with the fingerprint reader integrated into the screen, giving continuity and thus marrying those filtered renders.
Up to 12 GB of RAM and graphene battery?
The two are discussed together on many occasions, given that no information refers explicitly to the P40 (although speaking of "series" for the presentation, we assume their existence, as well as precedents). For both, it is expected that they integrate the processed Kirin 990 with 5G on board, speaking of a "Premium Edition" with 512 GB of storage and 12 GB of RAM. However, the rest of the specifications coincide with everything that has been said for the P40 Pro (maybe a Porsche Edition?).
Although something that was also said about its components is much more striking: a supposed graphene battery with which it would be possible to save space by occupying 70% of what a lithium battery would do. What is pointed out is a 5,500 mAh battery for the P40 Pro, which would place it even above the one that the Xiaomi Mi Note 10 has, we will see if it is so and if they have managed not to thicken it too much concerning the P30 Pro?
On fast charging, it points to 50 watts and the possibility of being able to fully charge that battery in 45 minutes, which would also be quite spectacular if it also had a performance similar to what we saw in the Mi Note 10. Mobiles would count With Android without Google services and EMUI 10; we will see what they say about that strong commitment to strengthening their gallery of apps.
Making room for five cameras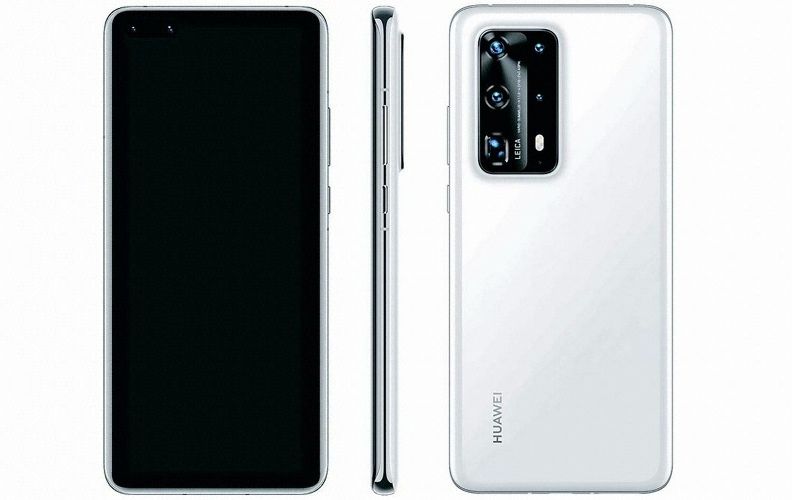 Speaking of that rear module for the cameras so striking according to the leaks, the possibility of five rear cameras is considered. The leaks point to one with a 64-megapixel Sony IMX700 sensor, one 20-megapixel for the wide-angle lens, 12-megapixel for the telephoto, an unspecified macro lens, and a TOF sensor.
Undoubtedly, the P40 will differ somewhat in this section, without distancing itself much in performance but making an absolute difference. We will see if, in this case, there are also two front cameras as it seems to integrate the Pro, or it remains with one like the P40 Lite, aiming for a 32-megapixel sensor for the main one and a ToF, with optical stabilization, eye.
We have an appointment on March 26
As for the colors, we saw that the P40 Lite released a new green that followed in the wake of those striking and reflected colors that were already started with the Huawei P20 Pro.
For the new P40, five colors were filtered, quite striking, and in that current line of gradients that are still trending: black, gold, gray, blue, and white. And about the price there is talk of $1340 and $1450, we will see if in the end there are two or three mobiles.
source:- gizmochina
Nokia 6.4 5G and 7.4 5G and cheap Nokia 1.4 on the way
Nokia 6.4 5G and 7.4 5G are two new mediums from HMD Global. The cheap Nokia 1.4 will come with them. Smartphones are to debut this or next quarter.
Nokia 6.4 5G and Nokia 7.4 5G are two Finnish smartphones from HMD Global, which we will see soon. The first one recently posed on renderings. We also know that Nokia 1.4 is on the way. In the case of this model, we know the most, because we have recently learned an almost complete technical specification. When will we see these phones?
HMD Global plans to launch these smartphones later this quarter or early next. The exact date is unknown. Nokia 6.4 5G is to get an SoC Qualcomm Snapdragon 480 system and a quad-camera with a 48 MP main sensor. The phone will also receive a 6.45-inch screen with Full HD + resolution. In the 7.4 5G model, we expect a more powerful Snapdragon 690.
Nokia 6.4 5G and 7.4 5G are so far mysterious and we know the most about the Nokia 1.4 model
Two more expensive smartphones still keep many secrets from us. Most are known about the cheaper Nokia 1.4. We know the price will be below 100 euros. The smartphone has a 6.51-inch HD + screen and a 1.3 GHz 4-core processor with 1 GB of RAM. There will also be 16 GB of data space and a 4000 mAh battery under the housing. There will also be a dual camera with 8 and 2 MP sensors.
Xiaomi Mi 12 and Huawei Mate 50 Pro will get LTPO screens
Xiaomi Mi 12 and Huawei Mate 50 Pro are flagships that are to get LTPO screens. Thanks to this, they will provide a variable refresh. We will not see them soon, however.
Xiaomi Mi 12 and Huawei Mate 50 Pro are flagships that will not be premiered in days. The first smartphone will only make its debut in about a year. The second should be presented in the fall. We learn that screens using LTPO technology will appear on both phones. What does it do?
We already know LTPO screens from Samsung Galaxy Note 20 Ultra and S21 Ultra models. They provide a variable refresh range up to 120 Hz. Xiaomi Mi 12 and Huawei Mate 50 Pro will also provide such possibilities thanks to this technology. This will translate into lower energy requirements, and therefore longer battery life.
Not only Huawei Mate 50 Pro and Xiaomi Mi 12 will get LTPO screens
Ross Young, who passed on these rumors about the Xiaomi Mi 12 and Huawei Mate 50 Pro, also lists other smartphones. Among them are Samsung Galaxy Z Fold 3 and Z Flip 3 or Oppo Find X3. Of course, we also expect this solution in the iPhone 13 Pro models. Apple also plans to finally reach for LTPO screens this year.
Nokia Prepares Several New Smartphones for Release in Q1 and Q2 2021
HMD Global as the brand holder of Nokia is currently trying to present a new smartphone that will raise the name Nokia. In 2021, Nokia will present a number of new smartphones from various categories.
Based on information from Nokiapoweruser, HMD Global is currently preparing to release several smartphones ranging from Nokia 1.4, Nokia 7.3, to Nokia 7.4 which will be launched in the first quarter of 2021.
Then there is also the Nokia 6.3 and Nokia 6.4 5G which are predicted to be launched in the second quarter of this year. Finally, there are Nokia 7.3 and Nokia 7.4 5G which are known to be announced.
"The Nokia 7.3 / 7.4 5G smartphone that many people have been waiting for will finally be launched in February or March 2021," wrote information on the Nokiapoweruser website.
Although the information is not 100 percent certain, at least Nokia is likely to release at least four smartphones that support 5G this year. So there are still chances that more Nokia smartphone models will be launched.
We'll see if sales of Nokia smartphones for 2021 will increase more than the previous year or not. Are you interested in trying to use an Android smartphone from Nokia? Write your opinion in the comments column!