Microsoft Releases Windows 11 Insider Build 22543 Brings Many Improvements
As previously reported, there are Two New Narrators in Windows 11 Build 22543 , and of course it feels incomplete if we don't discuss further about this new build for Insider Dev Channel users, because after all, apart from bringing two new narrators, there are many changes and fixes brought to the operating system.
Curious? here let's discuss.
Okay, first, apart from the presence of two new Narrators in Windows 11, there are also changes to the Media Control Flyout on the Lock Screen page, where it will now look like the following image.
Now the Media Control display will bring the Dark Mode display and will have the same appearance as the design that appears on Media Control which is present in Windows 11 Quick Settings.
The second is that there is a change in the Windows App Resizing option in the Snap Layout by adding an Overlaying App Icon with an Acrylic background as shown in the following image.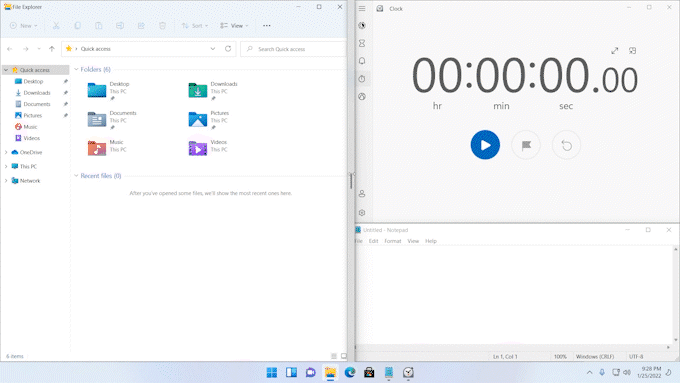 I think this display is cooler than the previous version, what do you think?
Now the third, when you use the WIN + ALT + K combination keys to Mute, now there will be a confirmation message that appears as a flyout, more or less it will look like this.
Then, when you try to do a full build upgrade, now the ring animation will bring up a display like in the following image, where this will correspond to how Windows 11 first boots.
In addition, there is also a design change on the System > Storage > Disks & Volume and Storage Spaces page, where now several options such as Drive, Volume, Space, and others will be present inline on the page as buttons and you don't have to click first to bring it up.
Well, there's a lot, right? it doesn't stop there, there are many other things that you might need to know, where some other changes and improvements include:
Task Manager shouldn't crash when switching to the Performance tab.
The updated flyout for the hardware indicators for volume will now show the level.
Fixed an issue where certain characters (like characters with umlauts) weren't allowed when naming your PC in OOBE, even though it was allowed in Settings after finishing OOBE.
Addressed an issue that was leading to OneNote crashing in recent builds when trying to open pages with inserted PDFs.
Mitigated an issue that was leading to unresponsive UI after enabling HDR.
Fixed an issue that could lead to explorer.exe crashing when dragging and dropping a file out of a zipped folder in File Explorer.
The context menu in File Explorer now shows a CTRL + Shift + C keyboard shortcut next to Copy as Path.
Fixed an issue that was leading to the cursor unexpectedly disappearing in certain apps.
Fixed a crash in Quick Settings when opening the input switcher from there.
Addressed an issue that was leading to the candidate window customization being unexpectedly missing from Personalization > Text Input for Chinese Simplified IME users sometimes.
We fixed the issue causing two arrows to appear for the hidden icon flyout and the Quick Settings icons, and the date and time were misaligned.
Mitigated an issue leading to Settings getting stuck in a suspended state and couldn't be launched.
If you've opted to turn off the startup sound, that setting should persist upgrades going forward.
Fixed the icon in the notification that shows if you have chosen to postpone finishing setting up your device.
Tabbing through Quick Settings should no longer set focus to an invisible element.
Fixed an issue that was sometimes causing the media controls above Quick Settings to be off-screen.
The underline indicating the active desktop in Task View will now follow your chosen accent color instead of being blue.
Mitigated a WER issue that was leading to DWM crashes in recent flights.
For more details, you may be able to check on the following Microsoft official page. But in general, some of the changes presented are very interesting for you to get.
If you are a Windows 11 Insider Dev Channel user, it's a good idea to immediately update your Windows 11 to Build 22543, you can immediately slide to the Settings > Windows Update page, then please download and install Windows 11 Insider Preview Build 22543.
Via: Microsoft
Windows 12 in 2024? Microsoft may move to the three-year release cycle
With Windows 11, Microsoft introduced an annual release cycle of significant operating system releases. This could change with the return to the Windows development path, leading to a major version of the operating system every three years.
MORE INTERVALED MAJOR RELEASES, RELEASES OF CLOSE FUNCTIONS
This was reported by Zac Bowden, a source that is often well informed on Microsoft's affairs. If the information turns out to be correct, a hypothetical Windows 12 could arrive in 2024, three years after Windows 11. Bowden's recent report also contains interesting details about the future of Windows; in summary:
Sun Valley 3, the version of Windows initially planned for next year, would be phased out.
However, the transition to the three-year development cycle envisages an intensification of the distribution activities of new functions dedicated to the latest version of Windows. In other words, new functions dedicated to the previous one will arrive even before a significant release. There is talk of a cadence that, starting in 2023, could be a few months: up to four releases in a year.
Moments identifies Microsoft's plan to make new features available at specific times of the year (regardless of a major release): it is an approach already used with Windows 11 regarding introducing the weather widget on the taskbar.
Also, part of the features originally planned for Sun Valley 3 – canceled, as mentioned – will be made available as updates to Sun Valley 2 (Windows 11 22H2) are expected in September / October in a stable version.
As for the alleged Windows 12 (nomenclature only hypothetical), at the moment, little is known except that it is in the embryonic stages of development and internally identified as "Next Valley."
However, all the plans in question may still be susceptible to change, a circumstance not unlikely with Microsoft that has often accustomed us to sudden program changes.
If implemented in the terms described, the plan would help blur the boundaries between a major release and a Windows "feature update."
Windows 8.1 Update Stopped, Users Asked to Upgrade to Windows 11
Microsoft has just announced information regarding the discontinuation of support for the Windows 8.1 operating system version .
It is stated that Microsoft will not provide technical support and security updates for users running Windows 8.1 starting January 10, 2023
Users who are still running Windows 8.1 are also encouraged to upgrade to Windows 11 or purchase a new device that supports the latest Windows version.
But this termination does not mean Windows 8.1 users can't use their operating system at all after January 10, 2023.
They can still use it, but Microsoft says Windows 8.1 users who don't get updates will be at risk of becoming victims of virus or malware attacks.
This is actually the same as the Windows 7 operating system, which was discontinued in early 2022.
But in the field, it turns out that there are still many Windows 7 users who don't want or can't upgrade to the latest Windows version.
How to download Microsoft PowerPoint 2016 for free for presentations?
When we think about these computer programs used by millions of users worldwide, there is practically no doubt that PowerPoint is one of the most famous. Indeed, the Microsoft program that is part of the Office suite is one of the most recognizable on the market that becomes indispensable when working with presentations.
When we mention creating or editing multimedia presentations, we know that most of our readers immediately think about PowerPoint instinctively, and of course, this is not the case. PowerPoint, in this case, its version of PowerPoint 2016, has all the elements for creating digital presentations for the office or college.
Suppose we want to present designs or ideas to our bosses, or even in an educational environment. In that case, there are several better options than PowerPoint 2016, so now we will show you the easiest and fastest way to download it. Even concerning previous versions of PowerPoint, we will try to analyze some of its novelties so that you know why it is convenient to update the program.
The best in PowerPoint 2016
As we said before, we can consider PowerPoint 2016 to have all the necessary tools for creating slides and thus the presentation we were looking for at the end of the day. Some elements we can add to our PowerPoint 2016 presentations relate to images, videos, and even photos. To be well complete.
But as soon as we become more advanced users of PowerPoint 2016, other content can be added in the same way, such as statistics tables, complete texts, and even music. PowerPoint 2016 includes all kinds of transitions and animations, making our presentations much more dynamic than before, which is always appreciated.
best teamwork
Even the entire teamwork section has grown like never before with PowerPoint 2016, to the point where its tools offer far more options than in the past, which is always appreciated. Even an element that we think gives PowerPoint 2016 an edge over other similar programs. It's not even necessary for all users to have the application installed on their computers.
As those who make up these working groups make changes to the documents, everyone else can see them—even setting auto-saves to OneDrive or SharePoint. Indeed, if you're looking for a presentation that can drive you crazy, we're sure PowerPoint 2016 is your best option.
Download PowerPoint 2016
Well, we are sure that after you analyze all the features of PowerPoint 2016, you will think about downloadability, and most importantly, it is something we can do quickly and easily. From the link at the end of the article, you can easily download PowerPoint 2016. In just a few seconds, the 60-day trial process granted by Microsoft will start, after which we will buy the product without any problems.