Microsoft Releases Windows 11 Insider Build 22543 Brings Many Improvements
As previously reported, there are Two New Narrators in Windows 11 Build 22543 , and of course it feels incomplete if we don't discuss further about this new build for Insider Dev Channel users, because after all, apart from bringing two new narrators, there are many changes and fixes brought to the operating system.
Curious? here let's discuss.
Okay, first, apart from the presence of two new Narrators in Windows 11, there are also changes to the Media Control Flyout on the Lock Screen page, where it will now look like the following image.
Now the Media Control display will bring the Dark Mode display and will have the same appearance as the design that appears on Media Control which is present in Windows 11 Quick Settings.
The second is that there is a change in the Windows App Resizing option in the Snap Layout by adding an Overlaying App Icon with an Acrylic background as shown in the following image.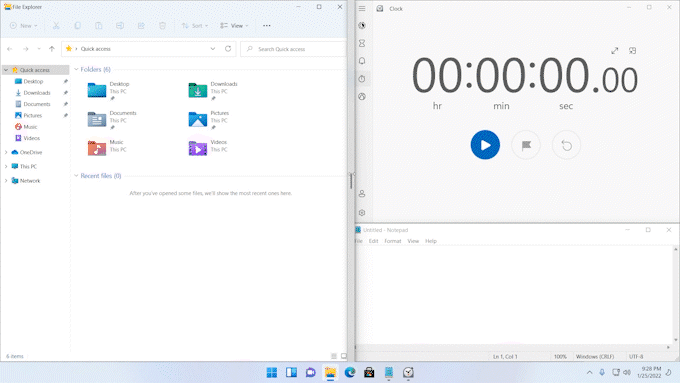 I think this display is cooler than the previous version, what do you think?
Now the third, when you use the WIN + ALT + K combination keys to Mute, now there will be a confirmation message that appears as a flyout, more or less it will look like this.
Then, when you try to do a full build upgrade, now the ring animation will bring up a display like in the following image, where this will correspond to how Windows 11 first boots.
In addition, there is also a design change on the System > Storage > Disks & Volume and Storage Spaces page, where now several options such as Drive, Volume, Space, and others will be present inline on the page as buttons and you don't have to click first to bring it up.
Well, there's a lot, right? it doesn't stop there, there are many other things that you might need to know, where some other changes and improvements include:
Task Manager shouldn't crash when switching to the Performance tab.
The updated flyout for the hardware indicators for volume will now show the level.
Fixed an issue where certain characters (like characters with umlauts) weren't allowed when naming your PC in OOBE, even though it was allowed in Settings after finishing OOBE.
Addressed an issue that was leading to OneNote crashing in recent builds when trying to open pages with inserted PDFs.
Mitigated an issue that was leading to unresponsive UI after enabling HDR.
Fixed an issue that could lead to explorer.exe crashing when dragging and dropping a file out of a zipped folder in File Explorer.
The context menu in File Explorer now shows a CTRL + Shift + C keyboard shortcut next to Copy as Path.
Fixed an issue that was leading to the cursor unexpectedly disappearing in certain apps.
Fixed a crash in Quick Settings when opening the input switcher from there.
Addressed an issue that was leading to the candidate window customization being unexpectedly missing from Personalization > Text Input for Chinese Simplified IME users sometimes.
We fixed the issue causing two arrows to appear for the hidden icon flyout and the Quick Settings icons, and the date and time were misaligned.
Mitigated an issue leading to Settings getting stuck in a suspended state and couldn't be launched.
If you've opted to turn off the startup sound, that setting should persist upgrades going forward.
Fixed the icon in the notification that shows if you have chosen to postpone finishing setting up your device.
Tabbing through Quick Settings should no longer set focus to an invisible element.
Fixed an issue that was sometimes causing the media controls above Quick Settings to be off-screen.
The underline indicating the active desktop in Task View will now follow your chosen accent color instead of being blue.
Mitigated a WER issue that was leading to DWM crashes in recent flights.
For more details, you may be able to check on the following Microsoft official page. But in general, some of the changes presented are very interesting for you to get.
If you are a Windows 11 Insider Dev Channel user, it's a good idea to immediately update your Windows 11 to Build 22543, you can immediately slide to the Settings > Windows Update page, then please download and install Windows 11 Insider Preview Build 22543.
Via: Microsoft
How To Restore Permanently lost Files in Windows
There are a few methods you can try to restore permanently lost files in Windows:
Check the Recycle Bin: If you have accidentally deleted the file, it may still be in the Recycle Bin. You can check the Recycle Bin by opening it from the desktop or by right-clicking on the Recycle Bin icon and selecting "Open." If the file is in the Recycle Bin, you can restore it by right-clicking on it and selecting "Restore."
Use file recovery software: There are several file recovery software programs available that can help you recover permanently deleted files. These programs scan your hard drive and try to locate deleted files that can still be recovered. Some popular file recovery software programs include Recuva, EaseUS Data Recovery Wizard, and Stellar Data Recovery.
Check for a previous version of the file: If you have enabled the File History feature in Windows, you may be able to restore a previous version of the file. To do this, right-click on the file and select "Restore previous versions." This will open the Previous Versions window, which will show you a list of available previous versions of the file. You can then select the version you want to restore and click "Restore."
Use a data recovery service: If you are unable to recover the lost file using the methods above, you may need to use a professional data recovery service. These services can often recover files that have been permanently deleted or lost due to hardware failure or other issues.
It's important to note that the success of these methods will depend on various factors, such as the type of file, the method used to delete it, and the length of time that has passed since the file was deleted. Some methods may not work if the file has been overwritten or if the hard drive has been damaged.
Microsoft Releases Update KB5021855 For Windows 11 Insider Dev Channel, Pipeline Testing Only
In short, some time ago, Microsoft released a new update for Windows 11 Insider Dev Channel users, where this update is update KB5021855, where with this update, the OS build will change to 25252.1010, and as we already know, if it has the end. 1000 or 1010, it is certain that this update is just a pipeline test.
Now while Windows 11 Insider Dev Build 25252 brings a number of changes including the New Taskbar Search and the VPN Indicator on the Network Icon on the Windows 11 Taskbar, in the update released this time nothing is presented, because again, this is just a pipeline test and is intended to test the quality of Windows Update releases to users only.
So with that said, users are free to install or not at all.
Via: Microsoft
Reminder: There's Nvidia Bug in Windows 11 22H2, User Recommended Driver Update!
A few days ago there were quite a number of problems reported by Nvidia users, where the GPU Usage in the Windows 11 22H2 Task Manager did not display information correctly, some even displayed 100% GPU Usage in an idle state.
Regarding this issue, this seems to be the impact of Driver compatibility with Windows 11 22H2, as a few days ago Nvidia has confirmed this issue and the good news is that the fix has started rolling out via Nvidia Geforce Experience Beta. Now, this fix itself, for now, is only available as a Beta version which you can download via the following page.
And based on a statement from Nvidia, when an update is released for all users (non-Beta), users are required to download and update their drivers.
Then when will the latest Nvidia driver be officially released for all users and no longer be released as a Beta version?, just for your information, the update from GeForce Experience will be released in November, it's just that there is no information on exactly when this update will be released.
But of course, there are quite a lot of Nvidia users complaining about this problem, both on the Feedback Bug and Reddit pages, even some WinPoin readers also seem to find this problem.
For those of you who can't wait to get a fix, you can just update Geforce Experience to the Beta version which you can download on the following page.