Microsoft Releases Windows 11 Insider Build 22543 Brings Many Improvements
As previously reported, there are Two New Narrators in Windows 11 Build 22543 , and of course it feels incomplete if we don't discuss further about this new build for Insider Dev Channel users, because after all, apart from bringing two new narrators, there are many changes and fixes brought to the operating system.
Curious? here let's discuss.
Okay, first, apart from the presence of two new Narrators in Windows 11, there are also changes to the Media Control Flyout on the Lock Screen page, where it will now look like the following image.
Now the Media Control display will bring the Dark Mode display and will have the same appearance as the design that appears on Media Control which is present in Windows 11 Quick Settings.
The second is that there is a change in the Windows App Resizing option in the Snap Layout by adding an Overlaying App Icon with an Acrylic background as shown in the following image.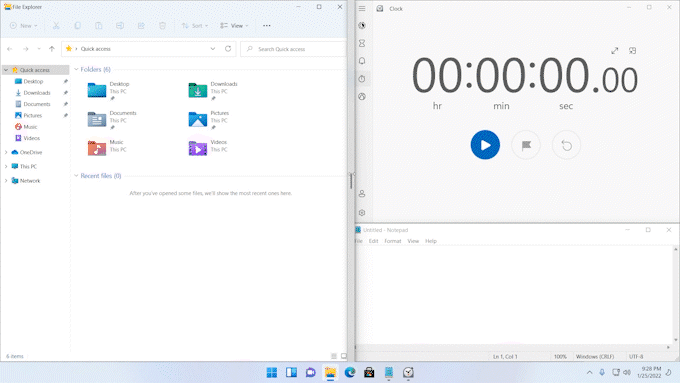 I think this display is cooler than the previous version, what do you think?
Now the third, when you use the WIN + ALT + K combination keys to Mute, now there will be a confirmation message that appears as a flyout, more or less it will look like this.
Then, when you try to do a full build upgrade, now the ring animation will bring up a display like in the following image, where this will correspond to how Windows 11 first boots.
In addition, there is also a design change on the System > Storage > Disks & Volume and Storage Spaces page, where now several options such as Drive, Volume, Space, and others will be present inline on the page as buttons and you don't have to click first to bring it up.
Well, there's a lot, right? it doesn't stop there, there are many other things that you might need to know, where some other changes and improvements include:
Task Manager shouldn't crash when switching to the Performance tab.
The updated flyout for the hardware indicators for volume will now show the level.
Fixed an issue where certain characters (like characters with umlauts) weren't allowed when naming your PC in OOBE, even though it was allowed in Settings after finishing OOBE.
Addressed an issue that was leading to OneNote crashing in recent builds when trying to open pages with inserted PDFs.
Mitigated an issue that was leading to unresponsive UI after enabling HDR.
Fixed an issue that could lead to explorer.exe crashing when dragging and dropping a file out of a zipped folder in File Explorer.
The context menu in File Explorer now shows a CTRL + Shift + C keyboard shortcut next to Copy as Path.
Fixed an issue that was leading to the cursor unexpectedly disappearing in certain apps.
Fixed a crash in Quick Settings when opening the input switcher from there.
Addressed an issue that was leading to the candidate window customization being unexpectedly missing from Personalization > Text Input for Chinese Simplified IME users sometimes.
We fixed the issue causing two arrows to appear for the hidden icon flyout and the Quick Settings icons, and the date and time were misaligned.
Mitigated an issue leading to Settings getting stuck in a suspended state and couldn't be launched.
If you've opted to turn off the startup sound, that setting should persist upgrades going forward.
Fixed the icon in the notification that shows if you have chosen to postpone finishing setting up your device.
Tabbing through Quick Settings should no longer set focus to an invisible element.
Fixed an issue that was sometimes causing the media controls above Quick Settings to be off-screen.
The underline indicating the active desktop in Task View will now follow your chosen accent color instead of being blue.
Mitigated a WER issue that was leading to DWM crashes in recent flights.
For more details, you may be able to check on the following Microsoft official page. But in general, some of the changes presented are very interesting for you to get.
If you are a Windows 11 Insider Dev Channel user, it's a good idea to immediately update your Windows 11 to Build 22543, you can immediately slide to the Settings > Windows Update page, then please download and install Windows 11 Insider Preview Build 22543.
Via: Microsoft
Microsoft Releases Windows 11 Insider Build 25120 For Insider Dev Channel
Last week, Microsoft started releasing Windows 11 Insider Dev Build 25115 (Sun Valley 3) for Insider Dev Channel users, and this week, there's a new build number 25120 which certainly brings new capabilities and fixes for Windows 11 Insider users.
One of the new things introduced in Windows 11 build 25120 is that now ARM64 users can update their system to this build, users just need to go to Settings > Windows Update > Check for updates and please download Windows 11 build 25120 which is available there.
In addition, on the Desktop, Microsoft has also added interactive content in the form of a search box that you can use to search for something on the internet.
However, based on circulating information, this feature forces users to use Microsoft Edge as their default browser, and users cannot use other browsers even though the default browser is not Microsoft Edge.
Well besides that based on information from the Microsoft page, there are a number of improvements that are also presented in this new build, which include:
Suggested actions should appear for more date and time formats now.
Addressed some issues with certain formats when copying the date and/or time.
Improved overall performance and reliability of the feature.
Fixed an issue that could crash Settings when opening and looking at the battery usage graph.
Improved performance of displaying Wi-Fi networks after enabling Wi-Fi from the Wi-Fi section of Quick Settings.
Addressed an issue leading to some unreadable text on the Performance page when a contrasting theme was enabled.
Fixed an issue that could cause Windows Update to stall and roll back updates for WSA users.
Did some work to address a stutter in the progress wheel animation when upgrading to a new build.
Some games that use Easy Anti-Cheat may crash or cause your PC to bug check.
Certain apps on full screen (eg, video players) prevent live captions from being visible.
Certain apps positioned near the top of the screen and closed before live captions are run will re-launch behind the live captions window positioned at the top. Use the system menu (ALT + Spacebar) while the app has focus to move the app's window further down.
On the same page, Microsoft also explained that the Insider Dev Channel will get a number of new features and experiences that may never be released, so all the features presented in this build are experimental and Microsoft is waiting for feedback from Insiders whether in the future it will release features. or not at all, including the Interactive Content features mentioned above.
For you Insider Dev Channel users, you can just go to the Settings > Windows Update page and please download Windows 11 build 25120 which is available there.
Via : Microsoft
Again, Here's Leaked One Outlook, Email Client For Windows 11
As previously reported, Microsoft is developing a new Mail Client that aims to replace all existing Mail Clients, including Outlook Web, Outlook from Microsoft Office, and Mail & Calendar that comes preinstalled with Windows 10.
Now, after we could see leaks about this application, recently Windows Central shared more pictures about the application called One Outlook, and here are additional pictures.
Exactly as in the picture you can see above, this One Outlook application certainly has support for Dark Mode as well, apart from that the overall appearance of the application is similar to the Outlook for a Web application.
Although it looks similar to Outlook for Web, it is not a UWP or PWA application, as according to @jessejarvi 's explanation, the application is a Win32 application and not a UWP application.
"It's a separate, standalone Win32 app. RIP UWP. It will replace the people/contacts/mail app tho. And maybe even the Office suite Outlook." Ungkap @jessejarvi.
And of course, because it's not a UWP application, we can access it without having to have internet, that's what Microsoft has to say about native features such as offline stores that are present in this application.
You Can Try It Now!
If you are interested, you can try using this application right now, you just need to download the installer on the following Microsoft page, then install the application as usual.
I will post an article about the first impression after I try this application, so stay tuned on Windows Portal Indonesia.
Via: Windows Central
Microsoft Releases Update KB5013283 For Windows 11 Insider Dev Channel Users
Today Microsoft released update KB5013283 for Windows 11 Insider Dev Channel users; this update will bring the OS Build to 22581,100, and although it is not a big update, there is one thing that is quite interesting present in this update.
As we already know, yesterday at Build 22579, Microsoft removed the Tabs feature in File Explorer, so for insider users who updated their system to Build 22579, they won't be able to activate this feature even with ViveTool.
And with the presence of this KB5013283 update, it seems that Microsoft is bringing this feature back for users to activate using ViveTool again.
Well, even so, unfortunately, because once again this is an Insider Dev Channel, maybe this feature will be removed later because, based on rumors circulating, the Tabs feature in File Explorer is planned to be present in Windows 11 Sun Valley 3 or 23H2 later.
However, based on the news of several users, this update is also presented for Insider Beta Channel users so that you can re-enable the Tab feature in File Explorer in both the Dev and Beta Channels; if you are curious, you can follow these steps: Step 1. Make sure you have used Windows 11 Build 22581.100.
Step 2. Download ViVetool on the following GitHub page, then open Command Prompt as Administrator > Go to the Directory where ViVeTool is stored and enter the command > ViVeTool.exe add config 34370472 2
Please try, guys.
Via: DeskModder