New Keyboard Shortcuts in Windows 11 to Learn
Windows 11 has arrived, and the operating system comes with a number of changes in appearance and functionality. In addition to the now centralized Start Menu, Windows 11 introduces a number of new features aimed at helping you organize and make better use of your PC device, although in the end this isn't a revolution and is more of an improvement.
Microsoft has also added some new keyboard shortcuts or shortcuts to help you navigate Windows 11 more efficiently, and use them effectively, allowing you to complete more tasks, but with less time wasted mouse-over and clicking.
With that in mind, thedigitnews.com has compiled the following list of the most useful keyboard shortcuts you need to know about in Windows 11. Some replace the old shortcuts, such as the Windows + C key which now launches Teams instead of Cortana, while others are mostly new shortcuts. in Windows 11, but they are all worth using in your day-to-day workflow.
Windows + A = Open Quick Settings
Windows + Ctrl + C = Turn the color filter on/off (previously it had to be enabled in the Color Filter settings)
Windows + K = Open Cast in Quick Settings
Windows + N = Open notification center and calendar
Windows + W = Opens Widget or News & Interest panel
These are some of the most useful basic shortcuts to quickly access the core aspects of Windows 11. Windows Key + K is a new shortcut to directly open the Quick Settings menu (where tools like brightness and volume controls are) and access the Cast option specifically which is useful if you want to display to an external screen.
The cast is one of the many optional tools you can add to Quick Settings (which can be edited by pressing the pencil icon in the lower-right corner of the menu), but it's not added by default so many new users might miss it.
Windows Key + Ctrl + C is a shortcut to quickly enable or disable color filters, which can also be very useful for those who are color blind or visually impaired, although you will need to enable them first.
To do so, open the Settings menu and navigate to Accessibility → Color filters, then enable Keyboard shortcuts for color filters. Once you've done that, you can choose alternative color filters (including grayscale, inverted, and red-green or blue-yellow filters) and switch between them at will using keyboard shortcuts.
Windows + Z = Open Snap Layouts
Windows + Alt + Arrow Directions = Place the selected window in the direction
Snap Layouts is one of Windows 11's most helpful new features as it gives you more control over how you distribute open windows on the desktop.
You'll usually see this when you hover your mouse over the maximize button in the upper-right corner of the window, where a Snap Layouts menu will appear showing four possible ways to organize the window. Click the part of the layout of your choice where you want the window to be placed.
You can save time searching for it by simply pressing Windows key + Z to open the Snap Layout menu instantly. If you know you want a simple 50/50 split with one window at the top of the screen and the other at the bottom, you can do it faster with the new Windows key + Up and Down arrow key shortcut. This complements the existing Windows key + Left and Right arrow key shortcuts to position windows to the left and right of the screen, so you can quickly rearrange your work with just a few keystrokes.
Windows + Tab = Open Task View from virtual desktop
Windows + Ctrl + D = Add a virtual desktop
Windows + Ctrl + Left and Right Direction = Switch between open virtual desktops
Windows + Ctrl + F4 = Close the virtual desktop currently in use
For Task View, virtual desktops and corresponding keyboard shortcuts were available in Windows 10 before, in Windows 11 Microsoft made this feature front and centre of the operating system. This was the right decision, as there is now a Task View button embedded in the centre of the Start Menu by default, although you can remove it in the Taskbar settings menu.
But while there's nothing wrong with deleting icons if you don't feel comfortable looking at them, getting used to using multiple virtual desktops (and navigating them quickly via keyboard shortcuts), can be a great way to keep your work organized.
In Windows 11, each virtual desktop can have its own custom cosmetic touch, including different wallpapers and themes, and apps that open on one desktop don't open on another. This can make it easier to do things like group all of your work-related apps on one desktop and all of your gaming apps on another, so you can quickly swap back and forth. And once you get the hang of these keyboard shortcuts, you should be able to do them much quicker than if you had to search for and click on the relevant icon every time.
How to Upgrade Windows 11 Home to Windows 11 Pro
Generally, nowadays many new devices have received Windows 11 Home by default, even though Windows 11 Home itself is actually sufficient to meet the daily needs of ordinary general users, but unfortunately, there are a number of feature limitations in the home version compared to the pro version, for example, it's just the unavailability of the gpedit option and a number of other power tools.
The solution to getting the most complete features, of course, is to update Windows 11 Home to Windows 11 Pro, then what are the steps? is it possible to upgrade directly, and does it cost money? let's try guys.
Upgrading Through the Settings Page
Before entering the steps, you must already have a Windows 11 Pro license key that you bought before, if you don't have it you can buy it first, I don't recommend using crack and other activators.
Step 1. After having a license key you can just go to the Settings > System > Activation page.
Step 2 . In the Activation section, you can click the Change button in the Change product key section.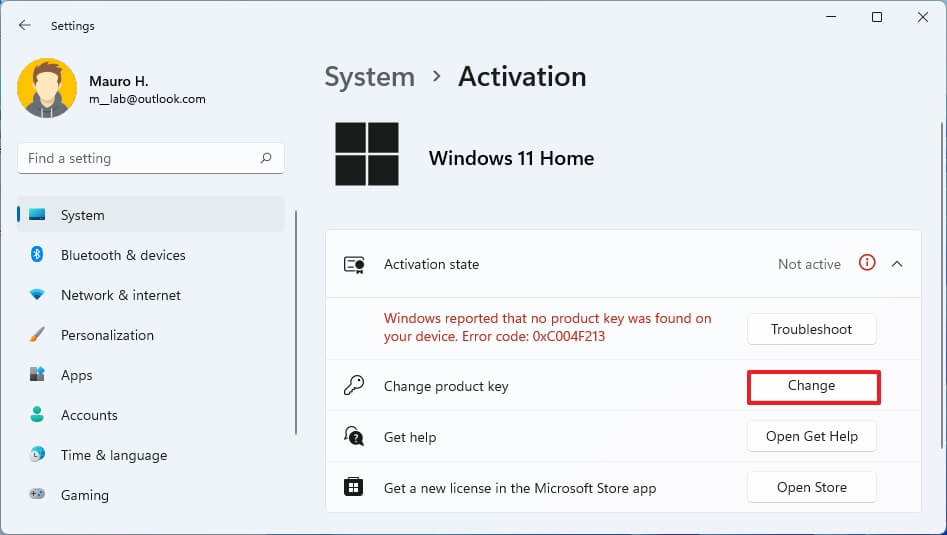 Step 3. After that, please enter your Windows 11 Pro license key, where this license contains 25 serial numbers that you get in the Windows 11 purchase package.
Click Next and then click Start, if the serial number matches, then Windows 11 Home will automatically change to Windows 11 Pro.
Upgrading Through the Microsoft Store Page
If by chance you don't have a Windows 11 Pro serial number, you can also buy it and upgrade directly from the Microsoft Store page on Windows 11.
Step 1. First, go to Settings > System > Activation > Open Store.
Step 2. Next, you will be directed to the Upgrade page in the Microsoft Store, then you just have to buy it as usual by pressing the Buy button.
After you make the purchase process, the upgrade process should start immediately, this process takes about 30 minutes or less depending on the internet connection and the performance of the device you are using.
Well, please try guys, I hope this article is useful. I haven't tried upgrading with the Windows 10 serial number, but of course, it's worth a try too, just wait for the next article guys.
Reference : Pureinfotech
How to Remove Ad Banners in Windows 11 File Explorer
As previously reported, Microsoft may be presenting advertisements in Windows 11's File Explorer. The ad banner is an advertisement for OneDrive's offerings, which certainly takes away the attractiveness of Windows 11 itself, although not too annoying.
So, how do you get rid of the Ad Banners in File Explorer Windows 11? Calm down, friends; if you are one of those who also get ads in File Explorer, you can follow these few simple steps.
How to Remove Ad Banners in Windows 11 File Explorer
Step 1. First, open Folder Options.
Step 2. Next, in the View section, please search for "Show sync provider notifications," then uncheck that section.
After you uncheck the "Show sync provider notifications" section, please click OK to save changes.
And after that, there will no longer be OneDrive ad banners in Windows 11 File Explorer.
Well, please try, guys; good luck and hopefully useful.
Download Official File ISO – Windows 11 Insider Build 22579
For those of you Windows 11 Insider Preview users who want to install Windows 11 Build 22567 directly, clean install, and clean from scratch, Microsoft recently released an ISO file for this version of Windows 11 to get the whole installation experience from the ground up.
Well, suppose you've read the previous article. In that case, you probably already know that in this latest build, there are several improvements, especially the change to the open with a design which is now back to the old design, the ability to change folder names in the Start Menu, and several other things that you can read. In the previous article.
Now go ahead; if you are interested in downloading the ISO file from Windows 11 Insider Preview Build 22579, you can immediately slide on the following Microsoft page. Please select Windows 11 Insider Preview (Dev Channel) Build 22579.
The size itself is not too big, only about 5 Gb, so prepare your quota, guys. With this ISO file, too, you can install Windows 11 on devices that are not supported; you need to use the latest version of Rufus .