Tips for Making the Most of New Features in Windows 11 – Part 2
This article is a follow-up article on tips for maximizing the new features in Windows 11, in order to increase your productivity when using the new operating system from Microsoft.
After previously maximizing the number of features that revolve around improving performance and focus, there are still several other features that need to be maximized, including privacy features, advertisements and also convenience in use.
Turn Off Notifications
With Windows 11, the number of notifications has actually increased and this might be annoying to some. Luckily we can turn off notifications.
Open Settings from the Start Menu, alternatively, you can also press Win+I to open the Settings page directly.
Go to System and then click on Notifications.
Notifications stay On by default but you can easily turn them off if you want.
You can also customize notification settings for all apps on your PC separately.
Remove Unwanted Private Ads in Apps
With the updated operating system, you now have better control over your privacy. With just one click, you can stop apps from using your data to show personalized ads.
Open Settings, then go to Privacy & Security.
From the right pane click General Settings.
Here you can choose whether or not you want apps and websites to show ads and relevant content based on your interests and language.
Block Pop-Ups and Tracking in Microsoft Edge
Now you might want to check some of these settings in Microsoft Edge as well.
Launch Microsoft Edge and open Settings by clicking on the three dots in the upper right corner of the browser.
From the left pane, click Privacy, Search, and Services.
In the left pane, you will see that it is set to Balance by default, but it is recommended that you select the Strict option.
It will block most trackers, block known malicious trackers, and the content will contain a minimum of personalization.
New option on Right Click
You may not notice it but there have been some changes to the right-click options in Windows 11. Now when you right-click on any file on your PC, you will see lots of new options added. Cut, Copy, Delete, etc. are now moved as icons.
Widgets
This is one of the many new features added to Windows 11. It is actually the new name and new look of News and Interests in Windows 10. The News and Interests icon was previously placed in the System Tray in the lower right corner of the screen. You can add or customize widgets here as per your interest.
Touch Keyboard
If you have a touch-enabled Windows 11 device, Windows 11 has a very helpful Touch Keyboard feature. Right-click on the Taskbar to open the Taskbar settings. Under the tabs, corner icons of the Taskbar, you will see the Touch Keyboard button.
Enable it to always show the Touch Keyboard icon on the Taskbar. You will now have a small Touch Keyboard icon in the system tray, right next to the WiFi icon.
Windows 11 now also allows you to change the Touch Keyboard theme.
Change PC Geolocation
Almost all applications on PC will now take advantage of the built-in geolocation feature. You can change your default location if you want. You can also decide whether you want desktop applications to access your location or not.
Press Win+I to open Settings.
Go to Privacy & Security.
Scroll down and click on the Location tab.
If you want to change the default location, click Set default and it will open Maps.
Enter your location and click Change.
Tweak Search Settings
The Search pane on the Taskbar also has a new look and features. Anything you type in the Search Bar will be searched in Apps, Docs, the web, and more. Apps you use frequently are placed right in the Search pane. All searches that you do frequently will be indexed here.
You can also choose specifically where you want to perform the search. For example, if you want to search for something in an email, click the More tab and select an email. Now type what you want to search in the email. So basically, you don't need to go to your email account to search for emails, you can do it directly from the Windows Search option.
There's also a Quick Search tab showing today's history, new movies, subtitles, and today's Market. You can also change Search settings and Indexing options according to your own choice.
These are some useful Windows 11 tips and tricks. These tips can help you increase your productivity and improve your browsing experience on the all-new Windows 11 operating system.
Next up: Tips for Making the Most of New Features in Windows 11 – Part 1
How to Upgrade Windows 11 Home to Windows 11 Pro
Generally, nowadays many new devices have received Windows 11 Home by default, even though Windows 11 Home itself is actually sufficient to meet the daily needs of ordinary general users, but unfortunately, there are a number of feature limitations in the home version compared to the pro version, for example, it's just the unavailability of the gpedit option and a number of other power tools.
The solution to getting the most complete features, of course, is to update Windows 11 Home to Windows 11 Pro, then what are the steps? is it possible to upgrade directly, and does it cost money? let's try guys.
Upgrading Through the Settings Page
Before entering the steps, you must already have a Windows 11 Pro license key that you bought before, if you don't have it you can buy it first, I don't recommend using crack and other activators.
Step 1. After having a license key you can just go to the Settings > System > Activation page.
Step 2 . In the Activation section, you can click the Change button in the Change product key section.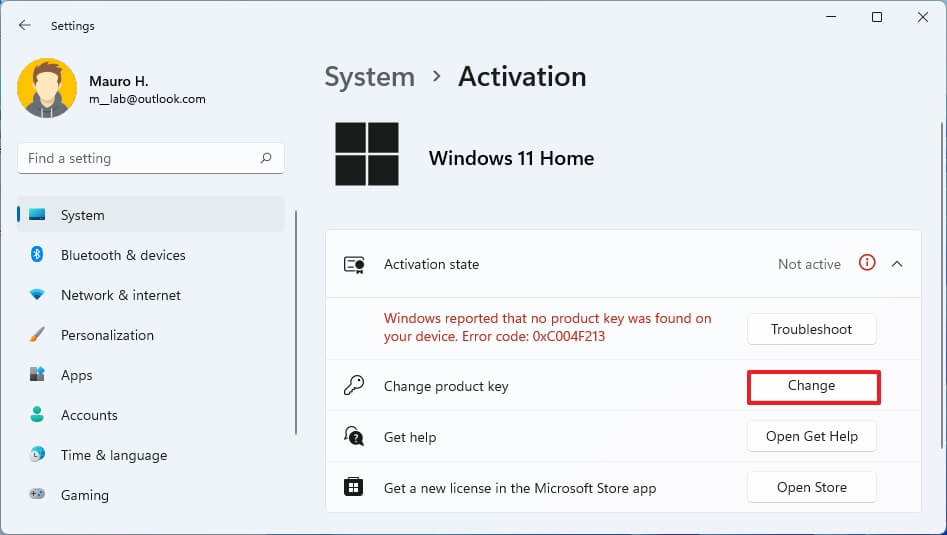 Step 3. After that, please enter your Windows 11 Pro license key, where this license contains 25 serial numbers that you get in the Windows 11 purchase package.
Click Next and then click Start, if the serial number matches, then Windows 11 Home will automatically change to Windows 11 Pro.
Upgrading Through the Microsoft Store Page
If by chance you don't have a Windows 11 Pro serial number, you can also buy it and upgrade directly from the Microsoft Store page on Windows 11.
Step 1. First, go to Settings > System > Activation > Open Store.
Step 2. Next, you will be directed to the Upgrade page in the Microsoft Store, then you just have to buy it as usual by pressing the Buy button.
After you make the purchase process, the upgrade process should start immediately, this process takes about 30 minutes or less depending on the internet connection and the performance of the device you are using.
Well, please try guys, I hope this article is useful. I haven't tried upgrading with the Windows 10 serial number, but of course, it's worth a try too, just wait for the next article guys.
Reference : Pureinfotech
How to Remove Ad Banners in Windows 11 File Explorer
As previously reported, Microsoft may be presenting advertisements in Windows 11's File Explorer. The ad banner is an advertisement for OneDrive's offerings, which certainly takes away the attractiveness of Windows 11 itself, although not too annoying.
So, how do you get rid of the Ad Banners in File Explorer Windows 11? Calm down, friends; if you are one of those who also get ads in File Explorer, you can follow these few simple steps.
How to Remove Ad Banners in Windows 11 File Explorer
Step 1. First, open Folder Options.
Step 2. Next, in the View section, please search for "Show sync provider notifications," then uncheck that section.
After you uncheck the "Show sync provider notifications" section, please click OK to save changes.
And after that, there will no longer be OneDrive ad banners in Windows 11 File Explorer.
Well, please try, guys; good luck and hopefully useful.
Download Official File ISO – Windows 11 Insider Build 22579
For those of you Windows 11 Insider Preview users who want to install Windows 11 Build 22567 directly, clean install, and clean from scratch, Microsoft recently released an ISO file for this version of Windows 11 to get the whole installation experience from the ground up.
Well, suppose you've read the previous article. In that case, you probably already know that in this latest build, there are several improvements, especially the change to the open with a design which is now back to the old design, the ability to change folder names in the Start Menu, and several other things that you can read. In the previous article.
Now go ahead; if you are interested in downloading the ISO file from Windows 11 Insider Preview Build 22579, you can immediately slide on the following Microsoft page. Please select Windows 11 Insider Preview (Dev Channel) Build 22579.
The size itself is not too big, only about 5 Gb, so prepare your quota, guys. With this ISO file, too, you can install Windows 11 on devices that are not supported; you need to use the latest version of Rufus .